Students heading back to the classroom
 for the new school year will be contending with one of the most dangerous times in the pandemic for children. And officials will have to consider many measures to keep them safe from 
Covid-19
, an expert said.
"We have the more contagious Delta variant, we have surges and we have so many adults letting down their guard, not wearing masks, not getting vaccinated," Dr. Leana Wen told CNN's Wolf Blitzer on Tuesday. "That's contributing to this really dangerous environment for children."
The good news is vaccination rates are up in the US. For the first time since June, more than 500,000 people on average are initiating their vaccinations each day, according to data from the US Centers for Disease Control and Prevention.
Health experts say that the vaccines are an important step for slowing or stopping the spread of the virus, and the more transmissible Delta variant.
But children under 12 are still not eligible for vaccines, and for those newly vaccinated, it takes about six weeks from the first dose to take full effect, many children could still be vulnerable when they start the new school year.
"My concerns are deep and I'm very concerned," President Joe Biden said when asked about school-aged children returning to the classroom and whether schools might not be able to stay open.
"I also understand that the reason children are becoming infected is because, in most cases, they live in low-vaccination rate states and communities and they're getting it from unvaccinated adults. That's what's happening. And so my plea is that for those not vaccinated, think about it."
Whereas the elderly were once considered the population most vulnerable to the virus, the age constraints around vaccinations have left children most at risk now, CNN Medical Analyst Dr. Jonathan Reiner told CNN's Don Lemon.
Wen said that it's clear what's required to make school safe for children – layers of protection.
When one layer is removed, like when social distancing is foregone so students can gather in a classroom, the other layers of virus protection become even more crucial, she said. Those layers include at least a three-ply surgical mask, improved ventilation, vaccination and testing.
"Putting all that together is how we can get kids back in school safely," Wen said.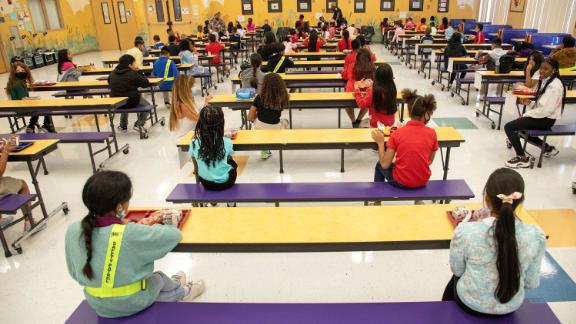 Currently, Covid-19 vaccines are only authorized for people 12 and older, but many experts and officials have called for the efforts to approve vaccines for younger children to be expedited before more children are infected.